Description
POLJOT soviet quartz watch
Vintage watch manufactured on 1st Moscow Watch Factory "POLJOT"
Legendary Soviet brand trademark POLJOT.
The watch has automatic quartz movement and operates on a single battery.
YEARS 1980s
CASE SIZE 29x37mm(with crown)
THICKNESS 9mm
LUG WIDTH 18mm
TYPE  Quartz
MOVEMENT P2450
FUNCTIONS Hours, Minutes, Seconds, Calendar
Quartz lever movement
Watch been through a recent service by a professional watch tech and keeps good time.
Comes with NAGATA leather strap for free!
Highly recommended 18mm state of the art fine grain leather handmade NATO straps by Commander:
– NATO black strap
– NATO blue strap
– NATO brown strap
Modes of payment:
PayPal
Credit Cards(Choose Paypal)
BDO bank deposits (for Philippines customers only)
Fast international shipping: this watch ships out from Ukraine (with tracking number) within 2 business days!
1st Moscow Watch Factory (1.MWF, renamed to POLJOT after 1964) – the biggest and oldest of soviet watch factories.
Russian watches have a rich and interesting history dating back over 80 years with the creation of the First Moscow Watch Factory, which today manufactures Poljot watches.
A highlight of Russia's watch history came in 1961 when cosmonaut Yuri Gagarin took the first ever flight into space with a watch from the First Moscow Watch Factory.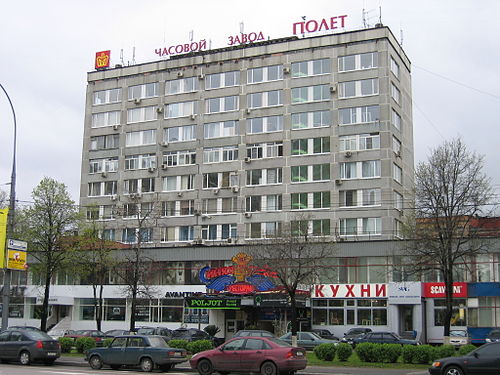 Poljot watches are manufactured by the First Moscow Watch Factory. The factory began producing watches in 1930, and started using the Poljot brand name in 1961.
Poljot watches are higher-end Russian watches and cost more than most Russian watch brands. An average Poljot watch costs around $300. Some gold President-series Poljot watches sell for upwards of $10,000.
The Sturmanskie watch manufactured by the First Moscow Watch Factory has the distinction of being the first watch in space.
In 1966 the First Moscow Watch Factory was awarded the highest Soviet award, the Order of Lenin, for developing the national watch industry.
In 1992 the administration of the Russian president selected Poljot to be the rewarding watch from the President of the Russian Federation.
In recent years, the First Moscow Watch Factory scaled back production. Some of its equipment was purchased by Volmax, a Russian watch company launched by ex-Poljot employees. Volmax now uses the term "Poljot" for some of its watch movements.